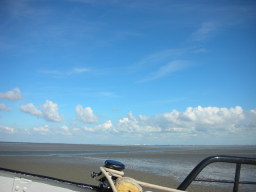 After failing to bring you all the news from Zurich (very cool, especially because of meeting friends) and Paris (very cool, that was my first visit there), here is an update of the sailing holiday.
We had rented our trusty old skutsje, the 'houvol' once again, and planned to make Heeg, the IJsselmeer and the Waddenzee unsafe (in that order). Due to various people's wishes, work, plans and desires, we had a week- and a weekendcrew, and some everlasting folks. The alltime sailors consisted of Alex (new to the Houvol), Dennis (el Commodore), Pitr, Denis, Johan and me. In the weekend we were joined by Niels (Dennis' brother), Rombout, Else, Ward and Judith; week-crew consisted of Marieke.
Friday
We left early (had to rush to meet two deadlines :S, but made it :) and had a nice and quiet drive (just before all the traffic congestions started) to Gaastmeer. Shopped a bit, put everything on the boat and left for Heeg — of course! Well, you normally can cast off at about 6-ish. So you can't really get anywhere (bridges normally don't open anymore that late) — except for Heeg. And Heeg has the infamous boerendisco :) So the natural stop is Heeg, and a party on Friday!
We did just that, and after a nice meal (chicken, beans, ketjap, rice — Johan's quick recipe for groups, this time with a twist by the master chef (Dennis)) and some drinks went to d'Aldwal (the disco). Nice evening, most of the crew got drunk enough, there was dancing, all in all a cool evening, but, as PieterC would say: "trop de baguettes!" :)
Tried to call my bro after 12, but of course he as nowhere near his phone. Aah well, I'd call him in the morning then.
Saturday
Cast-off was early (always is in Heeg), so as to have more time on the IJssel lake. On the IJssel lake, we set a course for Medemblik. Now this had been the goal two or three holidays before as well, but every time we had been foiled in this because of a very big sailing race on the IJssel lake, that ended at Medemblik. This ment that the harbour was full. Turned out we had missed that race by a week or so, so that was lucky. There was another race going on — the cross-the-lake race where people swim from Stavoren to Medemblik. My advice: don't. It is a VERY long way.
Anyway, the weather was brilliant: full sunshine, enough wind, all in all perfect. We had a very nice day, ditto meal (pasta with minced meat and red sauce — there were some slight leftovers, despite me not having shopped for a change) and then went to make Medemblik unsafe. Well, after the previous night (stayed 'till closing), there was little life left in the group, so we found a nice bar, had a few beers and then went to get some sleep.
Sunday
We slept in a bit, and then set sail for the Waddenzee. We still had quite some way to sail, but again the day was beautiful, blue skies, about 30 degrees (celcius), nice wind, so we had a very nice trip to the locks at Kornwerderzand. Getting through those took a bit, so there was some lunch (somehow, locks always pop up around lunchtime — and since most of them take a while, it's always a good time to have some lunch :), which consisted of yesterday's leftovers — as there was a full pot of leftover red sauce.
After the locks we met the salty waters head on and set sail for Harlingen. After having moored off in Harlingen harbour, the motor was fuming… not good. Apparently the temperature of the engine had gone over 100 degrees celcius… sounds warm, but none of us had payed attention to it before, so we didn't know what it should be normally. But the fact that the engine room felt like a sauna was a clear indication that there was a problem.
After letting the engine cool down a bit, we checked it out, but of course we didn't notice anything out of the ordinary — which means, we didn't spot a hose that was not connected. The main suspect was of course the cooling system, but… no clue how that was functioning. One phone call to the owner later, we were on our way to apply a test, and indeed, something was not working correctly. Well, that was clear — we were grounded in Harlingen for this day. (originally, we planned to switch the crew and then sleep on the Wad, but with a malfunctioning engine…). The weekend crew took a hasty dinner (tried to make pancakes, but failed due to lack of time, so they gobbled down the remainders of red sauce and some french fries) and then went on the train (which stops in the harbour — really cool switching place — the harbour's bathroom facilities are actually on the (train) platform, that's how close they are :).
Most of the gang felt like staying on board, but I was curious to see Harlingen and stretch my legs a bit. Alex joined me, and together we just went cruisin' in Harlingen. It is there that we encountered the Ghost of Harlingen, a tale best told on a stormy night by a campfire. In the Ghost's haunt I discovered a Frysian whiskey (Fryske Hynder whiskey), which was actually quite okay. For the curious: it's made by a distiller in Bolsward — apparently, they mainly make beerenburger, but they now have a sideline of whiskey.
Monday
While some of us went shopping, Peter Syperda put in an appearance and replaced a rubber ring that seals a tube in the cooling system of the engine. So at about 9 we were ready to go, and we went! Onto the wad, towards the Franse Gaatje where we planned to anchor for the night. The weather was incredibly enough even better than before: as much sunshine, but more wind. A perfect day for sailing… until we encountered the speed bump known as "The Denis-hill". We were taking a shortcut, outside the shipping lanes. Since it was only about 1.5 hours after high water, that was believed doable. Well, it wasn't. Despite putting the newly fixed engine through its paces, we failed to break loose. Aah well, we planned to run aground anyway, and so we had! A bit ahead of schedule perhaps, but that only meant that we were making good time!
Which was A Good Thing, considering we wouldn't be moving our ship for the coming 8 hours, and then, because that would be the evening high tide (and evening tides are lower, in this case 40 cm lower) we'd only have a small window in which to move. Well, since we had already planned to spent the night on the Wad, we chose to spent it here rather than near the Franse Gaatje. This was in retrospect a brilliant choice — I've been to the Franse gaatje once before, and that time there were several other ships also spending the night there. This time, we only had to share "our" wad with two seals and a small contingent of seagulls.
Tuesday
Again, events dictated a change in plans. Originally, we wanted to go to Terschelling. However, not only was the wind quite strong this day, but the weather forecast promised little improvements — in fact, the coming days the direction and strength of the wind would be rather unfavourable to return from Terschelling. So we sailed back to Kornwerderzand, this time sticking a lot closer to the shipping lanes and keeping an eye out for undepths :)
Having covered those dangers, Murphy of course reared his ugly head in another area. We were tacking against the wind, Denis handling the jib (dutch: fok), when (warning, using dutch terms here) the mannetje of the harp attaching the fokkeblokken to the overloop became unscrewed. This resulted in the two massive wooden blocks attached to the jib banging around in the heavy winds, close to Denis' head. Alex did not hesitate one second and dove onto one of the blocks, pulling it down with his body. Crisis averted, Denis' head unscatched (PHEW!).
After that, we motored through to the locks and then decided to head in quickly at Makkum. Since we were at the leeward side of the IJssel lake, we would have to tack (a lot) to get anywhere under sail. Since tacking is not the Houvol's strong point, turning in was probably more fun.
Wednesday
We got up early, showered a bit and then went for the lock at Makkum. They told us they could let us pass, but the bridge a bit further down wouldn't operate until after 13:00.
So, back at the IJssel lake, the wind was still strong (too bad, no sunshine), and we were heading straight against the wind towards Workum — i.e. the next lock. The constant pounding of the waves on our front was impressive, and even the steerman at the helm caught a bit of water at some of the splashes. Rather impressive considering that that's roughly 15 meters away from the waves :) Most of that was actually due to the wind blowing the splashing water straight over the boat.
But the helmsman wasn't the only one impressed by the waves. So was our second anchorline — the one line holding the anchor up and away from the hull. It broke to the incessant pounding of waves. Of course, we only found out about this when we went to save the jib from falling in. We had of course folded the jib for storage, but the constant wavepounding had it's impact there too, and the jib was about to fall in. In the course of fixing that, it became apparent that our anchor was trying it's best to enter our boat — through the hull. Unfortunately, there was little to be done about that with the waves beating the anchor continuously. Fortunately, our little ship is a nice, steel, 20-ton vessel, so it can withstand a punch or two, three.
We entered the locks at Workum, fixed the anchor, and were in danger of running out of beer. After some emergency shopping at Gaastmeer (notifying Syperda in the mean time about the new paintjob the boat would be needing), we moored off at the middle island in the Fluessen, the Langhoekse Polle. There was one charter boat there, but since it was full of scouts of < 15 yrs, we did not join them for partying / sharing drinks.
Thursday
We slept in a bit (benefit of holidays) and then went for a bit of sailing. The wind was still strong, and the sun still mostly absent, so a fine day to sail. Everything went smoothly, until it became time to lower the sails. There was a slight issue with lowering the jibe, which turned out to be non-critical but just a bit hard to lower. We enjoyed the remaining pancakes (augmented with eggs and milk, cheese, ham and/or cervelaat) at the Rakkepolle (north island in the Fluessen) and then went in to the passantenhaven in good old Heeg again, for a final night of partying in d'Ald Wal. Well, we did and it was fun! There were much less "baguettes" this time around, and the bargirl who had poured me onto Goldstrike a year earlier was serving again, which inevitably led to some weird drinks on my part :)
There were also a bunch of Eindhoven kiddo's, who later turned up in the harbour at the yacht next to us. As the drunk guy explained, it was "daddy's yacht" and while Denis tried to explain the complexities of hull speed at 4.30 in the morning to a drunk person, Alex brought the conversation to the correct level by stating: "You know, those lines in the sail. They told me that they're called a 'lazy jack', and that they're convenient."
:)
Anyway, we had fun, a bit to drink, and we were left wondering what had gotten into daddy's mind when he loaned his ship to this crowd… ;-)
Friday
Early to rise, early to leave, early to hand in the ship and commence the return voyage! It had been a nice week, but all nice things come to an end and this was it. Johan dropped me off home before 2, which was unexpectedly early. Of course I should have used the time to catch up on sleep. Speaking of that…. Goodnight for now and talk to y'all later!